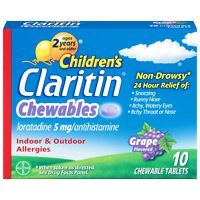 Allergy season.... ugh. We're in the midst of it, and it's hitting Alfie and me hard. Sneezing, wheezing, itchy eyes, the whole works. There's a strong history of allergy in my family -- my mother is allergic to practically everything, and every one of my siblings is allergic to something or another. I used to be allergic to chocolate (yes, it was a tragedy!!) and I'm allergic to shellfish (I get itchy, swollen eyes, NOT a pretty sight). The kids don't suffer much from seasonal allergies, but The Pea and 3Po do get itchy, watery swollen eyes now and then. Of our 3 kids, 3Po suffers the most-- he has had chronic eczema since birth. His poor little legs usually have an itchy rash spot and he needs to take allergy medicine when it itches so much he can't stop scratching.
So when
Bzzagent.com
invited me to participate in their
Children's Claritin
BzzCampaign, I jumped at it. We always keep a bottle of Children's Claritin syrup in the medicine cabinet, mostly for 3Po when his eczema gets too itchy. It works like a charm, and he doesn't get drowsy and irritable when he takes it.
We had never tried the
Children's Claritin Chewables
before, so I was eager to try the sample that
Bzzagent.com
sent us. 3Po loves the grape taste, he'd probably eat it like candy if I let him. I love the no-mess chewable tablet form -- soooo much easier than the sticky syrup! -- and of course, the non-drowsy formula that lets kids concentrate at school and enjoy playtime. As luck would have it, Jammy has what looks like 2 spider bites on his legs, and has developed an itchy rash all over his body this week. The doctor thinks it's an allergic reaction to the spider bite, so she recommended Claritin or Benadryl. Which means, of course, that our sample box of Claritin disappeared much sooner than I would have liked.
Would you like to try Children's Claritin Grape Chewables for your own kids? Bzzagent.com has provided me with some coupons to give away! The first 5 readers who comment on this blog (US addresses only, 1 comment per person, please) telling me what your child is allergic to, will receive a coupon good for $3.00 off a box or bottle of Children's Claritin. I also have a special book courtesy of Children's Claritin, "Casey and the SchoolDay Sneezes", to give away to one reader. I'll draw a name at random from the comments on this post on May 7, 2009. Good luck!