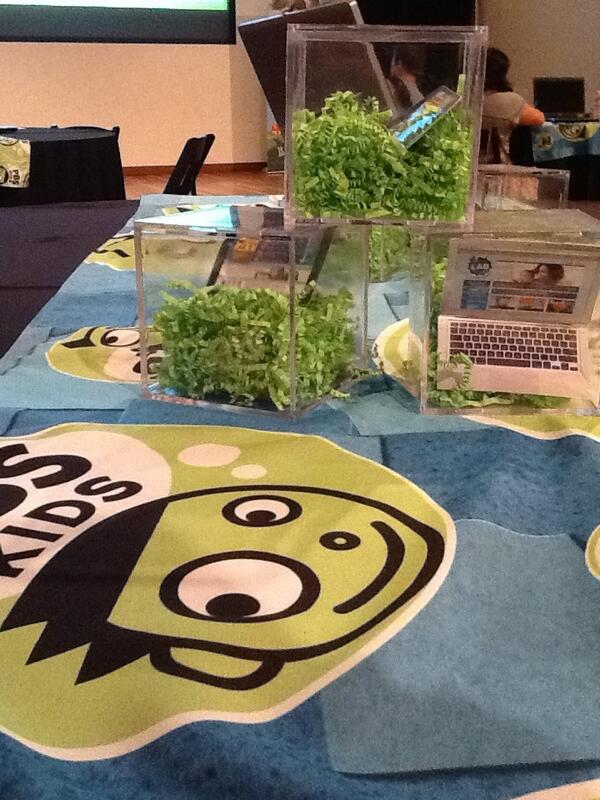 Last weekend PBS KIDS invited us to San Jose's Tech Museum to learn about their new "It All Adds Up" program and check out their latest educational apps. My kids have been watching PBS Kids since they were small, so I'm already a big fan of how their TV shows help kids learn important pre-kindergarten skills in a fun, engaging way.
This time, though, the focus was on learning
away
from the television screen. Many parents help their school-age kids with math and reading homework, but parents of younger children are missing the opportunity to develop important pre-kindergarten reading and math skills. PBS KIDS recently released a study revealing parents' anxiety about supporting math learning at home -- yet math skills at kindergarten entry can be an even stronger predictor of school achievement than reading skills!
That's where the "It All Adds Up" program comes in. This awareness program showcases the best resources created through the Ready To Learn initiative (a joint effort between PBS KIDS and the Corporation for Public Broadcasting aka CPB, to support the development of early math and literacy skills), including:
Over 100 games and apps developed by PBS KIDS and CPB
A new app for parents called PBS Parents Play & Learn
A team of early childhood educators and bloggers -- Math Mentors -- with tips and ideas for parents to integrate math activities into their everyday lives
Their favorite was the Cyberchase 3D Builder app, which lets kids build virtual 3-D structures from 2-D images. Think about trying to create a 3-D cube by cutting a piece of paper, then folding and taping it together, and you'll have a good idea of what this app is about -- only you're not just building cubes, you're building pyramids (tetrahedrons) and diamonds (octohedrons) and dodecahedrons and other polyhedrons. Personally, I liked Curious George's Bubble Pop game -- when kids play it on a laptop with a camera and microphone, they pop bubbles by jumping up and down (the camera records their movement and makes the bubbles pop) or count the bubbles out loud as they pop! Unfortunately it's not available on any mobile devices -- but if you like virtual reality apps, check out Dinosaur Train's Camera Catch app, which features Buddy and other dinosaurs flying across your room.
If only PBS KIDS had had these apps when my kids were younger!
We also had a surprise visit from Buddy, the T-Rex who stars in Dinosaur Train. Dinosaur Train is one of our favorite PBS Kids shows, so we fawned over him like star-struck fans. It's not every day you get your photo taken with a big celebrity like Buddy, right?
As a special bonus, we also got a sneak peek at PBS' new series,
Peg + Cat
. It's an animated math-based adventure for 3-5 year olds, starring Peg and Cat. In each episode, organized Peg and free-spirited Cat work together to solve a word problem to get out of trouble. Preschoolers will learrn measurement, shapes and patterns -- but even more important, they'll see that math can be useful and fun. Watch out for Peg+Cat on PBS this fall!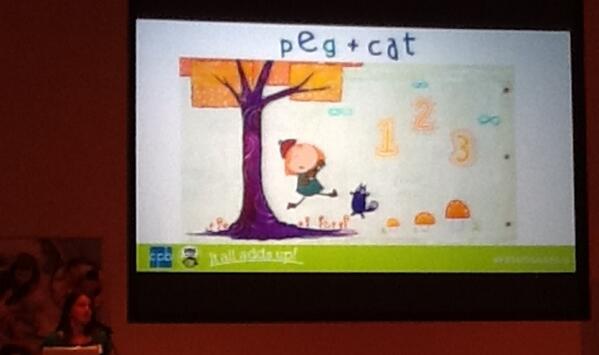 So many ways for parents to help their kids develop math skills at an early age! Take advantage of each and every one at the
PBS KIDS Lab
!
Win a PBS KIDS activity pack
One lucky Bonggamom Finds reader will receive a PBS KIDS activity pack featuring the following (value $17) :
Download codes for the following PBS KIDS apps ($1.99 each)
Dinosaur Train Camera Catch! for iPhone
All Aboard the Dinosaur Train! for iPad
Cyberchase 3D Builder for iPad
Martha Speaks Word Spinner for iPad
Martha Speaks Story Maker for iPhone
PBS KIDS activity sheets
Paperback book:
Rosie's Walk
by Pat Hutchins ($6.99)
Required Entry
Leave a comment on this post and share a tip for helping young children develop math skills.
Extra Entries
For extra entries, you can do any or all of the following. Please leave a separate comment for each extra entry with a way to verify the entry (i.e. tweet link, blog post link, Facebook id, Twitter id, etc.).
1)
Follow bonggamom on Blogger
(1 entry)
2)
Follow bonggamom on Instagram
(1 entry)
3)
Follow bonggamom on Pinterest
(1 entry)
4) Pin this giveaway on any of your Pinterest boards (1 entry -- you can use the "Pin It" button at the bottom of this page!).
5)
"Like Bonggamom Finds" on Facebook
and write this on my wall (1 entry):
I entered the PBS KIDS app giveaway!
http://ow.ly/kopkE
6) Tweet this once per day (1 entry per day)
RT @bonggafinds You could win a set of PBS KIDS apps for iPhone/iPad! Enter by May 7 at
http://ow.ly/kopkE
7) Join any open giveaway on Bonggamom Finds (1 entry for every giveaway you join)
The Rules
This giveaway ends at 11:59PM PST on May 7, 2013; I will draw a winner at random on May 8 and post their name after they confirm acceptance. Continental US residents only. For additional giveaway rules, click here.
Disclosure: My family received complimentary admission to the Tech Museum and lunch, but I have not been paid to blog about the event or any PBS product. Contents of this giveaway pack came from a goody bag given to attending bloggers. The views and opinions expressed here are my own.
Tweet this!