Is your coffee table piled high with remotes? We have five in the living room (not including the three we stash inside the cabinet because we don't use them often), three in the guest room and four in our bedroom. It's ridiculous! We really ought to replace all of them with a universal remote control, but I'm always nervous that the remote will end up being too complicated, or it will only replace half of the remotes and won't be compatible with the other half.
Enter the
Logitech Harmony Ultimate
. I'm seriously tempted to try it, because it has a touchscreen display that you can customize to make it easier to use. It can turn your smartphone into a remote control with the Harmony App for Apple or Android.it can control up to 15 devices. Best of all, it has the
world's largest A/V control database
-- it supports more than 5,000 brands and 225,000 devices!
Actually, make that 5,001 brands and 224,001 devices -- because starting today, you can now use the Logitech Harmony® Ultimate or Logitech Harmony® Smart Control (the lower-end model which controls up to 8 devices) to control your SONOS® wireless HiFi System speakers! Check out Logitech's press release (and don't forget to scroll down to the bottom of this post for a chance to
win your own Logitech Harmony Ultimate
!)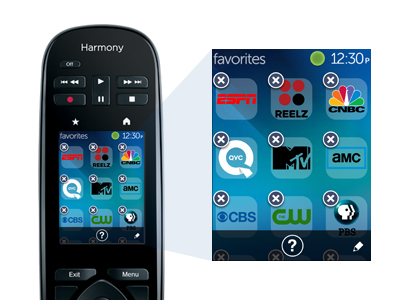 Logitech Harmony Introduces New Features Including Sonos Integration and Speech-to-Text Search
NEWARK, Calif. — June 9, 2014 — Today Logitech (SIX: LOGN) (NASDAQ: LOGI) announced that beginning today you can now use your Logitech Harmony® Ultimate or Logitech Harmony® Smart Control to control additional devices including your SONOS® wireless HiFi System speakers, no matter where they are in the home. In addition to controlling playback and volume directly from your remote, you can access your Sonos Favorites playlists from the color touch-screen of the Harmony Ultimate or through your tablet or smartphone using the free Harmony App.
"With these added integrations we're creating an even more robust Harmony ecosystem that makes it easier for you to create the optimum home-entertainment experience, including listening to your favorite playlists on Sonos wireless speakers, and setting your Philips Hue lights to the perfect brightness and color for watching a movie," said Chad Thompson, senior director of marketing and product management for Logitech's digital home business group. "Harmony's heritage lies in control of your home-theater devices, and with this update you can easily create the ideal entertainment experience, for the living room and beyond."
With the speech-to-text capabilities available today through the free Harmony App, searching for content on your streaming device, including the newly compatible Amazon Fire TV, is even faster. Through the Harmony App, you can now bring up the search field in the streaming media app, and use the mobile device's keyboard to enter text or dictate the desired search terms. The voice recognition is enabled by Siri® voice recognition software or Google Voice Search™, depending on your operating system.
This software update also enhances the Harmony remote setup process for any products that come with the Harmony Hub. During setup, Harmony now automatically detects your Philips Hue lights, Roku, Sonos speakers and other devices on your network, making configuration easier.
Pricing and Availability
The free software update is expected to be available on June 9, 2014. For more information on the Logitech line of Harmony remote controls, and to set up your Sonos wireless speakers please visit www.myharmony.com or our blog.
About Logitech
Logitech is a world leader in products that connect people to the digital experiences they care about. Spanning multiple computing, communication and entertainment platforms, Logitech's combined hardware and software enable or enhance digital navigation, music and video entertainment, gaming, social networking, audio and video communication over the Internet, video security and home-entertainment control. Founded in 1981, Logitech International is a Swiss public company listed on the SIX Swiss Exchange (LOGN) and on the Nasdaq Global Select Market (LOGI).
# # #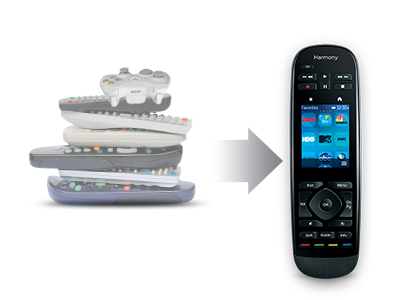 Win a Logitech Harmony Ultimate
One lucky Bonggamom Finds reader will win a Logitech Harmony Ultimate universal remote, worth $350!
Required Entry
Leave a comment on this post and tell me three device remotes you would replace with a Logitech Harmony Ultimate.
Extra Entries
For extra entries, you can do any or all of the following. Please leave a separate comment for each extra entry with a way to verify the entry (i.e. tweet link, blog post link, Facebook id, Twitter id, etc.).
1)
Follow bonggamom on Blogger
(1 entry)
2)
Follow bonggamom on Instagram
(1 entry)
3)
Follow bonggamom on Pinterest
(1 entry)
4) Pin this giveaway on any of your Pinterest boards (1 entry -- you can use the "Pin It" button at the bottom of this page!).
5)
"Like Bonggamom Finds" on Facebook
and write this on my wall (1 entry):
I entered the Logitech Harmony Ultimate giveaway! Giveaway ends 6/26 at
http://ow.ly/xNfLc
6) Tweet this once per day (1 entry per day)
Enter to win a @Logitech Harmony Ultimate universal remote (MSRP $350)! Giveaway on @bonggafinds ends 6/25 http://ow.ly/xNfLc
7) Join any open giveaway on Bonggamom Finds (1 entry for every giveaway you join)
The Rules
This giveaway ends at 11:59PM PST on June 25, 2014; I will draw a winner at random, on June 26 and post their name after they confirm acceptance. Continental US residents only. For additional giveaway rules, click here.
Disclosure: I did not receive a sample or monetary compensation for this post. Thanks to Logitech for providing the giveaway prize. Product information (in italics) is provided by Logitech The views and opinions expressed here are my own.
Tweet this!